Wingspan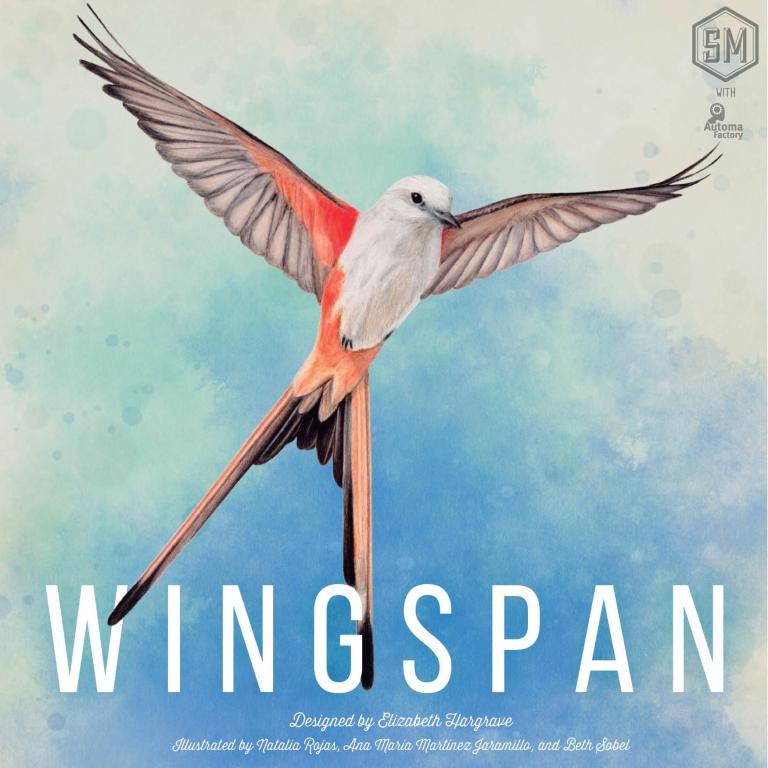 Wingspan
Wingspan is a competitive, medium-weight, card-driven, engine-building board game from Stonemaier Games. It's designed by Elizabeth Hargrave and features over 170 birds illustrated by Beth Sobel, Natalia Rojas, and Ana Maria Martinez.

You are bird enthusiasts—researchers, bird watchers, ornithologists, and collectors—seeking to discover and attract the best birds to your network of wildlife preserves. Each bird extends a chain of powerful combinations in one of your habitats (actions). These habitats focus on several key aspects of growth:


Gain food tokens via custom dice in a birdfeeder dice tower
Lay eggs using egg miniatures in a variety of colors
Draw from hundreds of unique bird cards and play them


The winner is the player with the most points after 4 rounds.

If you enjoy Terraforming Mars and Gizmos, we think this game will take flight at your table.

—description from the publisher

From the 7th printing on, the base game box includes Wingspan: Swift-Start Promo Pack.


Designers
Elizabeth Hargrave
Publishers
Ігромаг, Surfin' Meeple China, Siam Board Games, Regatul Jocurilor, Rebel Sp. z o.o., Pridemage Games, NeoTroy Games, MINDOK, Matagot, Maldito Games, Ludofy Creative, Lavka Games, Lautapelit.fi, Korea Boardgames Co., Ltd., Kaissa Chess & Games, Green Elephant Games, Ghenos Games, Feuerland Spiele, Divercentro, Delta Vision Publishing, Brain Games, Bluebird Games, Arclight, Angry Lion Games, 999 Games, Stonemaier Games
Board Game Category
Animals, Card Game, Educational
Jason and Chris take a look at this hand management set collection game designed by Elizabeth Hargrave, from Stonemaier Games!
Tom Vasel takes a look at this engine building game about bird watching from Stonemaier Games!
Podcasts Featuring this Game