四畳半ペーパー賽系 (Four-and-a-Half Tatami Mat Galaxy)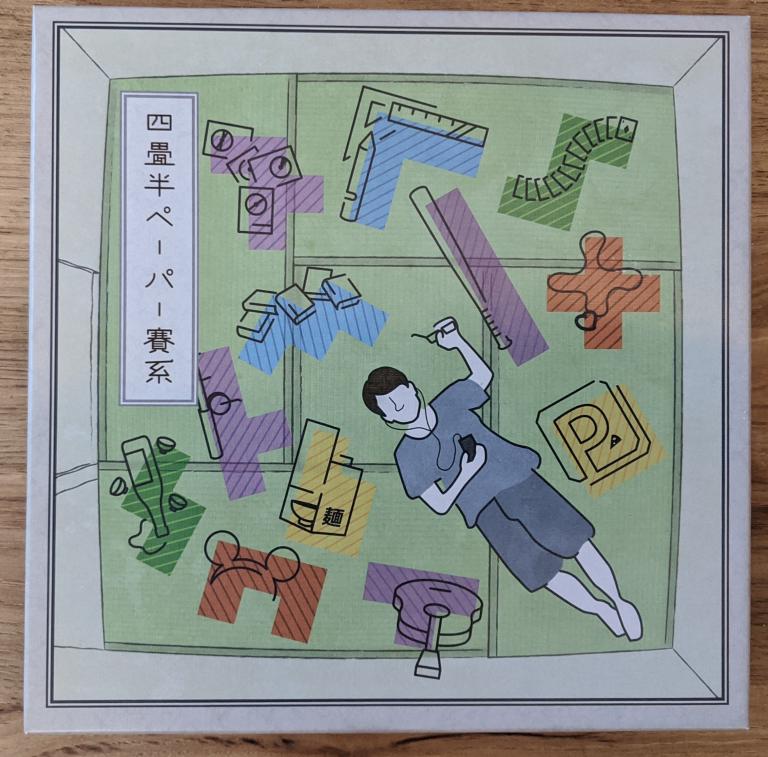 四畳半ペーパー賽系 (Four-and-a-Half Tatami Mat Galaxy)
In 四畳半ペーパー賽系 (Yojōhan Pēpā Saikei), roughly "Four and a half tatami mat room", players are experiencing their last 12 months of school life and trying to balance their school work, hobbies, friends, love life, and a part time job.

A deck of polyomino cards and a roll of 5 dice determine what shapes the players may color in on their mats each turn. The first shape may be filled in anywhere, but future shapes must be adjacent to previous ones, and same colored shapes may not be adjacent.

In each game, a selection of event cards will give players points for meeting certain objectives, and each color of dice has a different scoring algorithm. Some accomplishments, such as completing each mat of their room, will also earn the player money that they color in on their wallet and can spend for certain bonuses.

After 12 rounds, the player with the most points wins.