Arkham Horror: The Card Game (Revised Edition)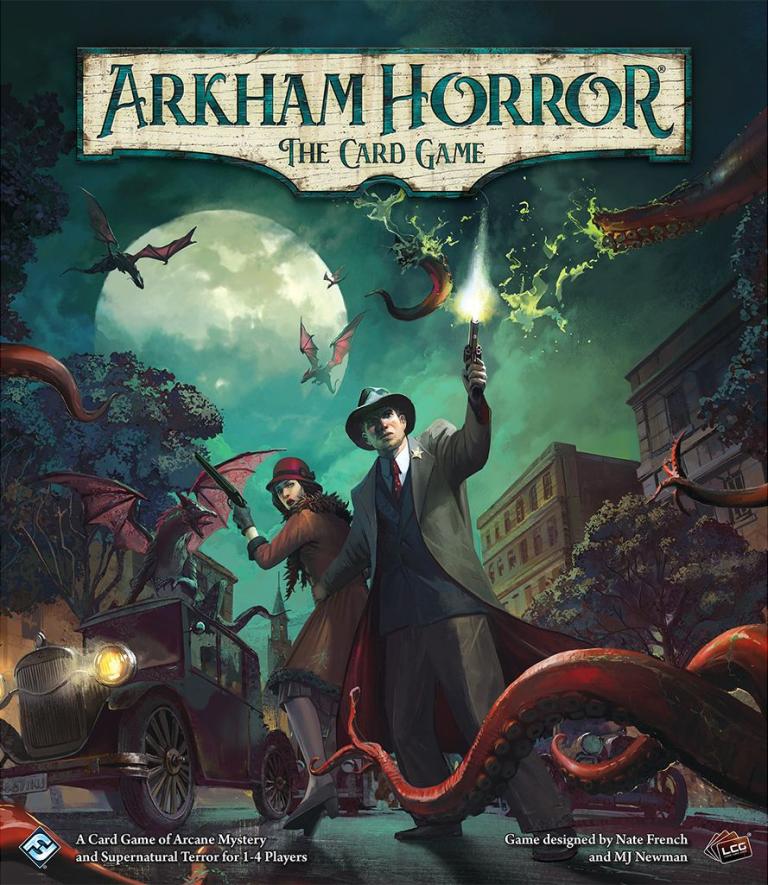 Arkham Horror: The Card Game (Revised Edition)
The boundaries between worlds have drawn perilously thin. Dark forces work in the shadows and call upon unspeakable horrors, strange happenings are discovered all throughout the city of Arkham, Massachusetts, and behind it all an Ancient One manipulates everything from beyond the veil. It is time to revisit that which started it all…

With a revamped system of organization and a number of quality-of-life improvements, the box comes with everything you need to get your Arkham campaigns started, including enough cards and components for up to three other players to join you in your quest against the Mythos.

What Has Changed?
- More players (up to 4) than the core set.
- second copies of all the 96 player cards for deck building purposes and 13 additional player cards for deckbuilding, previously released in expansions, in 2 copies each (scenario cards stay the same)
- a drawing bag ("Chaos Bag") for the Chaos Tokens
- New organization (meaning that it's much easier to find specific cards than it was before)
- additional quality-of-life improvements have been made, such as new numbered resource and clue/threat tokens and even a lead investigator token
- Revised "Learn to Play" rule book for easier starting
- Some cards with new art

In the game, you and your friend (or up to three in this revised version) become characters within the quiet New England town of Arkham. You have your talents, sure, but you also have your flaws. Perhaps you've dabbled a little too much in the writings of the Necronomicon, and its words continue to haunt you. Perhaps you feel compelled to cover up any signs of otherworldly evils, hampering your own investigations in order to protect the quiet confidence of the greater population. Perhaps you'll be scarred by your encounters with a ghoulish cult.


One key fact to keep in mind: the revised edition is 100% compatible with all material previously published. The new starter box contains the same cards (excepting some renewed art), just more of them. "Old-timers" can continue where they left off under the new two-boxes campaign format (replacing the old 1+6+1 format) starting with Edge of the Earth.


Designers
Maxine Juniper Newman, Nate French
Publishers
Korea Boardgames Co., Ltd., Galápagos Jogos, Galakta, Delta Vision Publishing, Asmodee Italia, Asmodee China, Asmodee, Fantasy Flight Games
Board Game Category
Adventure, Card Game, Collectible Components, Exploration, Fantasy, Horror, Novel-based