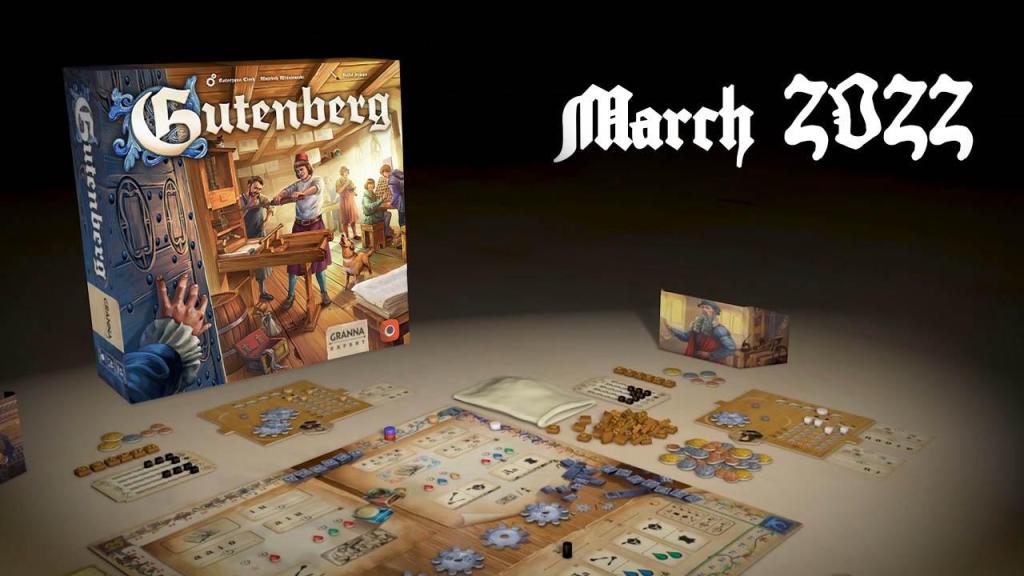 Portal Games has announced that it will be co-publishing the hit game Gutenberg, which was originally published by Granna, in North America, Australia and New Zealand.  Gutenberg is a mid-weight Euro game designed by Katarzyna Cioch and Wojciech Wiśniewski.  The artwork for the game is provided by Rafał Szłapa.  Gutenberg plays 1-4 players, ages 10 and up, in about 60-120 minutes.
Taking place in the 15th century, Gutenberg is a game In which the players bid on specific actions in order to build their wealth and fame.  The players are printing pioneers who are trying to improve their printing workshops and acquire new fonts, inks and decorations.  The game uses a unique system of rotating gears which allow the players to combine bonuses and gain large amounts of points.  Gutenberg lasts for six rounds and the player with the most points in the end wins the game.
Portal Games has made the game available for pre-order on its website here.  Portal Games will publish Gutenberg alongside the set of promotional tiles, which were offered during the European premiere of the game at Spiel in Essen, Germany in October 2021.